About Our Area
Sebastian, FL
Join us in discovering the natural splendor and rich history of Sebastian along Florida's Atlantic coast. Sebastian is nestled between Vero Beach and Melbourne along Indian River Lagoon Right on U.S. HWY 1. Sebastian's Indian River Lagoon is North America's most biologically diverse estuary, and is conveniently located across from Sebastian Inlet, Florida's premier fishing and surfing spot on the east coast, with a vast array of activities and attractions for eco-lovers, adventures seekers and relaxation enthusiasts. Sebastian is home to Pelican Island, America's first National Wildlife Refuge, and is also known for its unspoiled beauty, diverse fishing – from world-class bass fishing to deep-sea fishing adventures. You will find pristine waterways perfect for kayaking and paddleboarding, scenic pontoon & airboat tours, world-renowned surfing and skydiving, and abundant birding and wildlife viewing. Sebastian is also known for the rare antiquities that have washed up on its shores. A shipwreck from the 1715 Spanish Plate Fleet left many treasures along Sebastian's coast, and many treasure hunters continue to search the shoreline for other artifacts. Stroll the picturesque riverfront adorned with dockside restaurants serving fresh catches and marinas harboring fishing and sightseeing boats. Browse art galleries, visit treasure, historical and art museums, go beachcombing for treasure or just cruise the Indian River Lagoon National Scenic Byway.
Enjoy good food
Enjoy good food, cultural activities, shopping, or just a lazy day on the river. The sports minded angler will find everything he's ever dreamed about. Famed as one of Florida's most productive locations, you will find the resorts are your special escape from the ordinary. No crowded lobbies or front desk problems. Here, you belong.
Special Place
Secluded Sebastian: Gradually being discovered by vacationers exploring for the "Special Place" away from the maddening crowds. Just 12 miles north of Vero Beach and 18 miles south of Melbourne. Seafood abounds here in Sebastian with oysters, clams and a variety of fish for the aspiring angler....... just yards from the front door. The 15 foot runabout motor boats make your sport fishing enjoyable and easier. Many guests enjoy taking a boat out for dolphin sighting or having a picnic at one of the many islands in the river. We are very pleased to announce our recent designation by the State of Florida as a Clean Marina!
Our new boat dock is officially open for business! Boat rental rates are $125.00 USD for the week, fuel is included in price.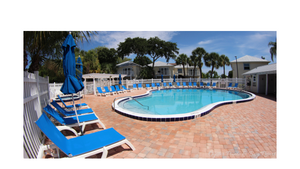 Heated Pools
We have beautiful heated pools, jacuzzis, tennis court located right on the river, shuffleboard court and motor boats. To book a relaxing vacation with the use of a boat, just call today and make your reservation!!